You might think "animated hip-hop comedy music videos for kids" isn't a thing. It is. In the age of YouTube, anything you can think of is already a thing. But this week saw the premiere of the first video to mix slick animation, psychedelic imagery and an original cast of characters with thumping beats and funny lyrics, sharply tuned to adult sensibilities but made for kids. And now THAT is a thing.
King Douglas, playing now on SpindoTV (a joint-venture between Spinmaster Toys and Mondo Media), tells the story of a charming but over-indulged boy whose birthday party spirals out of control when his father forgets how to say no. The song was created by two of indie trip-hop's heavy hitters, Sunny Levine and Mike Burakoff. MightyPants was given the enviable task of developing and producing the video.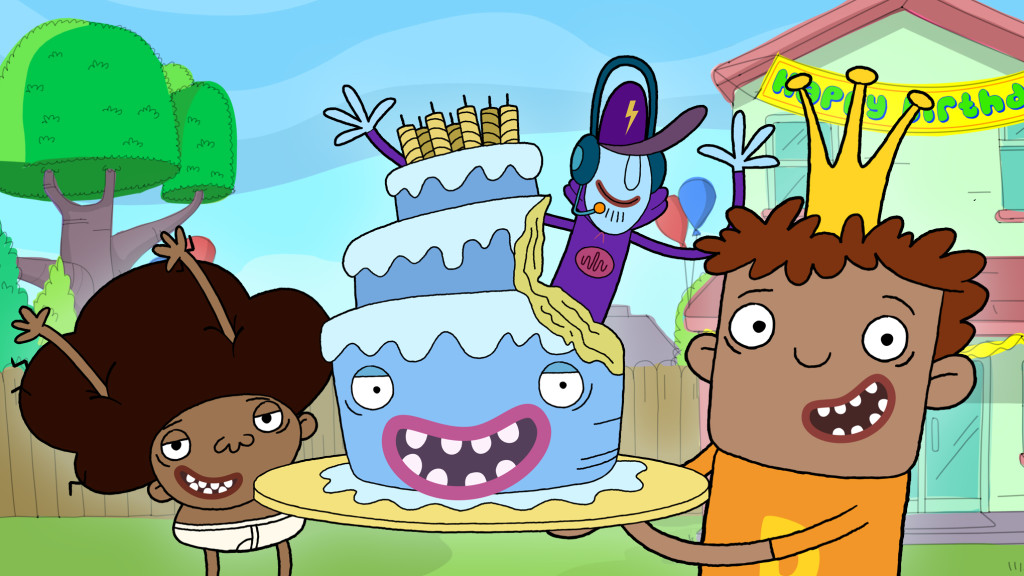 Like many accomplished musicians, Burakoff has a day job. Through his studio, King Drippa, he stays busy directing stimulating graphic animation for live events – mostly concert visuals for artists like Kaskade and Major Lazer. A gifted motion designer, his fascination with video has always revolved around music.
If you haven't heard of Sunny Levine, you've surely heard his work. He's produced records for Happy Mondays, Mickey Avalon, Pete Yorn, Scarlett Johansson, and Ariel Pink's Haunted Graffiti. His film scores include Celeste and Jessie Forever and Marmalade. Sunny hails from a long and prestigious line of producers: His father is Stewart Levine (Dr John, BB King, Minnie Riperton, The Crusaders, Simply Red), his uncle is QD3 (Ice Cube, Tupac and LL Cool J) and his grandfather is the legendary Quincy Jones (Michael Jackson, Ray Charles, Louis Armstrong).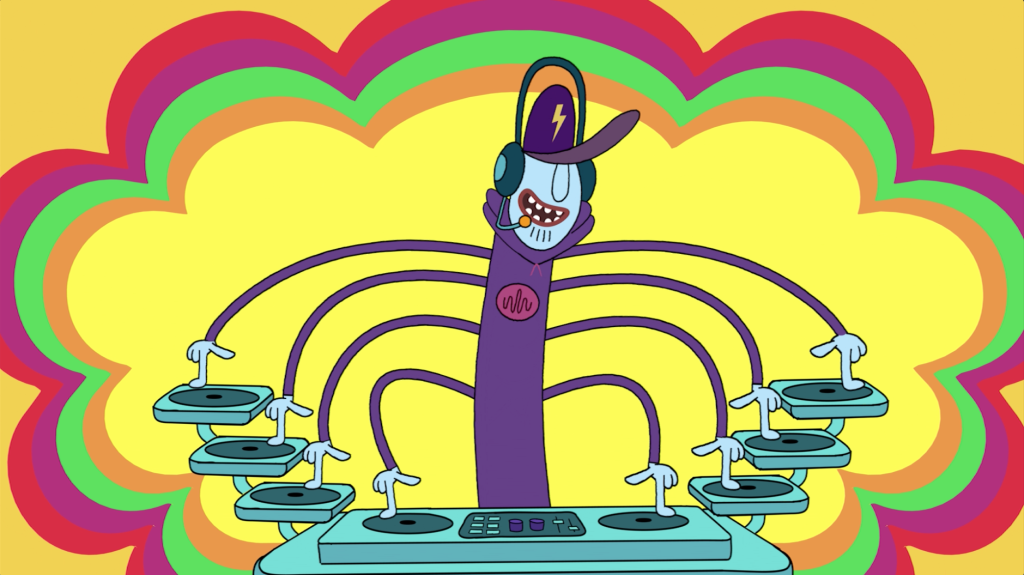 I recently swapped emails with Sunny & Mike to discuss the experience of working on the song and watching the video come together.
Sunny Levine: When Spindo reached out to me about making some humorous kid friendly music I got very excited. I thought about Mike Burakoff who is for sure one of my favorite people to goof with.
Mike Burakoff:  We jumped at the opportunity to basically do what we would be doing otherwise in off time at the studio and actually take it seriously.
Sunny: Mike has always had this vague little boy character that shows up… We started calling him Douglas.
Mike: The idea of "King Douglas" came about organically as we drank coffee at Sunny's house, basically trying to feel out what sort of song would be the most fun to make.
Sunny: We somehow thought of the idea of a power crazed kid taking his birthday celebrations to great heights to the point where he becomes a virtual monarch of party power in his own mind. Some current rappers boast and brag in a very childish out of control birthday party type vibe, popping bottles and what not.
Mike: It was easy to see in my mind's eye what would look good animated and how the pacing would work. I feel like my knowledge of animation helped me write the lyrics. I constantly compose and sing demented jingles. I can't really help it at this point, its compulsive.
Sunny: Mike performed most of the vocals because he really has that voice down cold.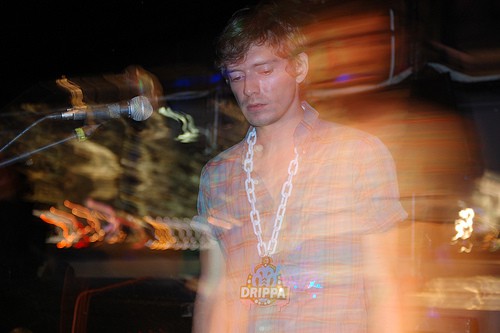 Burakoff: "How can I represent what I'm hearing in a visual way that creates an effect larger than the sum of the parts?"
photo by Georgia Kral
Some pretty notable musicians are writing & producing songs specifically for animation. Andy Sturmer from Jellyfish produces Cartoon Network content, Randy Newman is the musical voice of Pixar, and of course Danny Elfman wrote and performed the unforgettable songs for A Nightmare Before Christmas. Sunny and Mike could be the next generation of visual comedy musicians.
Sunny: "it's not often that I get to make silly music and it truly is one of my favorite things to do… every few months I sit down and make a silly song out of nowhere. Some I share, most I don't…There is always a side of my brain that operates from that place but it is often left to the jokes we make in the studio while making "serious music."
Mike: The first thing we did was lay down a bass beat… Then I laid down a scratch vocal track… more or less free-styled. Sunny transformed into mega-mode and sliced up that "ding-dee-dee" vocal sample that pretty much makes the track. After that, I went back and tightened up the vocals and Sunny went through and composed the structure of the track, adding in some spicy edits and overdubs.
Sunny: I love to collaborate and I love to blend styles and elements while messing with settings and proportions to find new looks at things.
Mike: Sunny is clearly a seasoned pro… I dabble in production as well, so we pretty much tag teamed this part, already comfortable with that process. 
Sunny: …we made a rough mix, and I sent it off thinking "these toy people are gonna think we are crazy!" Then they wrote back saying "we love it, we want it!" Wild…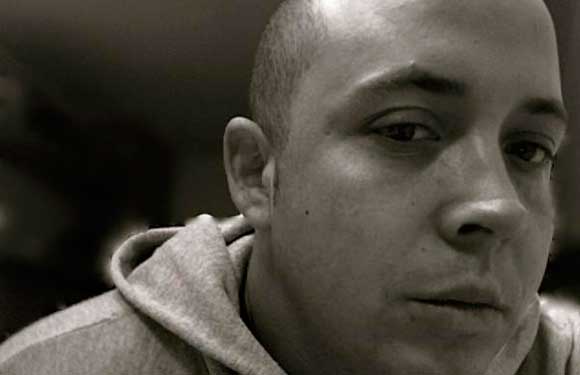 Sunny Levine: "My whole life I've been in studios watching (my Father, Uncle, Grandfather) work. I am well aware of how lucky I've been to gain that insight and sense of craft. I always to try to honor that lineage and build upon it as best as I can."
The song is layered over an addictive hip-hop beat, but the words and arrangement have a trippy, psychedelic quality that takes it someplace else. To echo that quality of grounded situations with an otherworldly vibe, we chose Toon Boom Harmony. This was our second project with Harmony, and we wanted to take it out on the highway, open it up and see what it could do. Spindo gave us the freedom to drive this one, so designer Willie Castro worked through several rounds, reaching for something loose and fresh, to break from the styles we'd grown comfortable with. Animator Matt Simpson and tech consultant Tony Ross helped us discover Toon Boom's capabilities, and we found a style perfectly suited for its deformers and bone systems. The final look had to be appealing to kids and adults –  so far, the response has been very warm.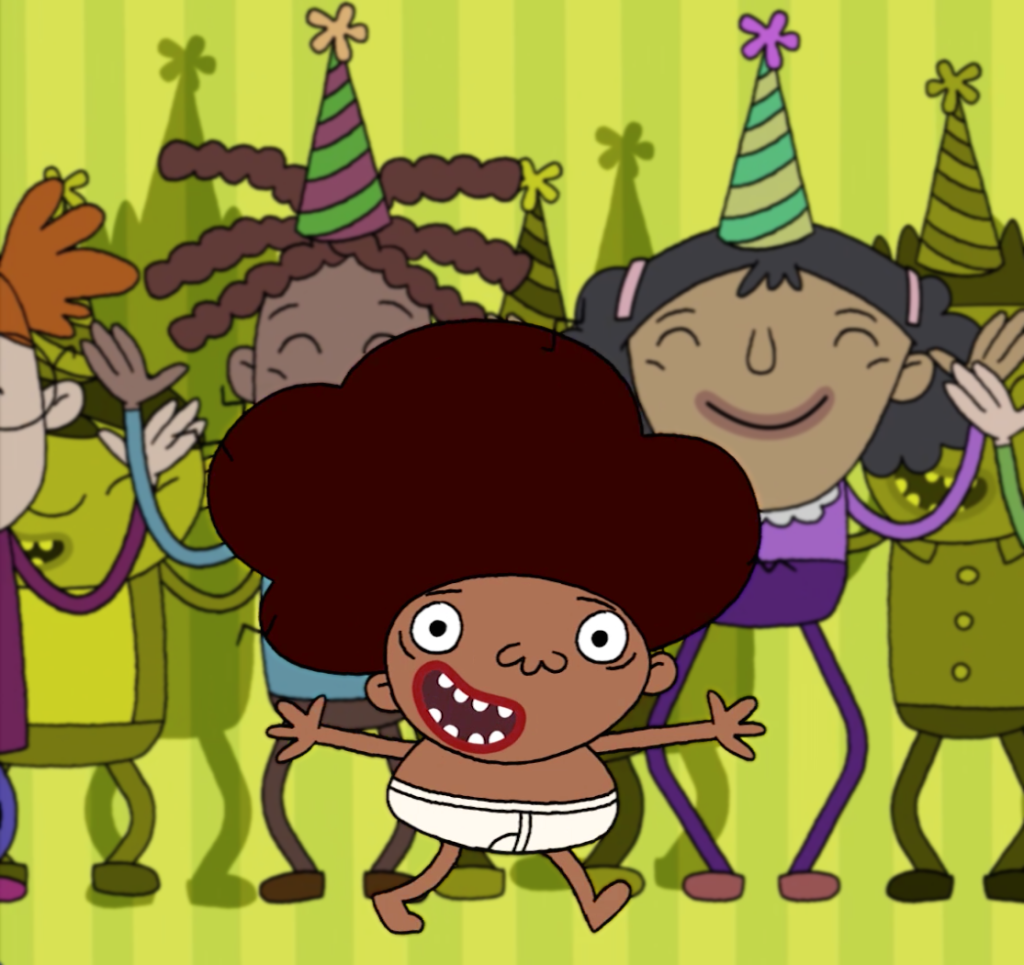 Mike: I remember Sunny and I remarking on how the animation in the King Douglas cartoon actually made the song SOUND better.
Sunny: I was very pleasantly surprised at the diversity in the finished piece. I come from a mixed race family and most of my family looks like Douglas's fam.
Mike: It's important for kids to see themselves reflected in the cartoons/shows they watch…. For a young person of color I imagine its straight up alienating and confusing to see a politician, neighbor or presidential candidate judge you based on your skin/religion.
Sunny: And it is a very diverse world we all live in so I think it's fitting that Douglas's world represents that. It's very much Real life.
Mike: Every kid deserves to get crazy with cake!
Since producing the song, Sunny and Mike have stayed busy with their respective careers. Sunny's been focused on the release of his new project, Boss Selection  (available on iTunes, Spotify and the like). It's a full album with a guest artists like Hugh Masekela, Pete Yorn, Brenda Russell and an exciting video for the Rashida Jones song Flip and Rewind.
Burakoff is crafting improvised, neo-psychedelic video for live concerts and directing innovative artists videos, like Messages by Dillon Francis, consisting entirely of animated Emojis and text messages (which famously inspired Kay Perry's Lyric Video for Roar).
Sunny: To be honest making music like this is the closest thing I have to a hobby. One of my goals for next year is to find a way to more things like this, hopefully with Mike. Its great to get goofy with friends and it's great to make people laugh and smile.
Mike: I loved working on this project and can promise you that we'll be making more of these songs. Humor is the greatest form of intelligence.